Applications for this job have closed. Try searching for
similar jobs.
Security Guard
Southeastern Railway
Location: Greater London
Job Type: Full time
Posted
---
Job Introduction
We are seeking proactive people who express enthusiasm in improving our passengers' experience. Enhancing the security of our passengers and staff is vital and extremely important for keeping everyone safe in and around our stations. Your day-to-day duties will include security checks in compliance with the station zoning plan, covering station entrances and concourses, public toilets, ticket offices, bike racks, litter and newspaper bins, and any other public places or perimeters. You may also assist with the safe and on time dispatch of trains in and out of our stations when required.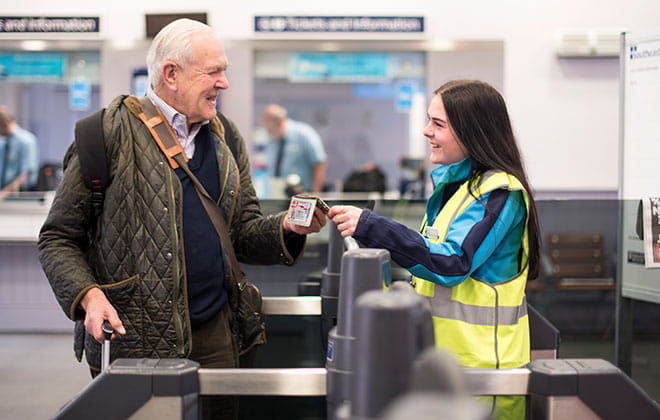 Duties/Patrols include but not limited to:
Observing and checking for any suspicious items using the HOT protocol
Challenging any suspicious items using the HOT protocol
Observing and checking (and challenging) any suspicious or unusual behaviour using the WHAT protocol
Preventing and discouraging unauthorised access to secure areas of the station
Adhering to the station incident report plan and the station emergency and/or crowd plans when implemented
Recording all security checks and events encountered during the shift in relevant logs
Reporting all issues to the British Transport police (BTP) or other relevant authorities
Filing all logs safely in a day and month order
Working Here
You will work a varied shift pattern, which includes weekends, bank holidays and nights.
You may be required to start work as early as 0530 hrs and some shifts will mean you will finish after the last train has dispatched for the evening – so ideally you will have your own transport to get to and from your place of work.
One of our existing station staff said...
"I work different shifts that add up to 35 hours per week, this is great as it allows me to have a lot of free time. I like walking my dog and catching up with friends."
Role Responsibility
Read Isabella's story here..https://uk.work180.co/blog/helping-people-and-making-meaning
This is what some of our station staff have to say ....
"My work/life balance is quite good, because I work shifts I am able to spend my spare time on things I enjoy, such as spending time with my daughters. I have a lot of job satisfaction working at Southeastern and I am now able to mentor new-entrants to the business. I ensure they are provided with all the necessary support to start their own careers at Southeastern and feel part of a team."
"I've been part of the small team that keeps our station running smoothly. Teamwork is really important here, without it the place wouldn't really work."
"The shift pattern allows me to have a lot of time for my family. I need it! I have five kids at home and I really enjoy spending time with them."
"I start the day by carrying out a security check, looking for anything that seems suspicious or out of place and these are then carried out every two hours."
"Between train arrivals, I sweep the platform and clear away litter. That's essential – it can be a safety hazard as well as making the place look dirty. And besides, it's always good to hear a customer say something nice about the cleanliness of the station."
"It's all about going the extra mile and doing that little bit more – that's what makes the difference for the customers."
"I love everything about my job - working outside in the natural light and fresh air, helping people with information and keeping them safe. I also enjoy the camaraderie with colleagues in all positions in the company."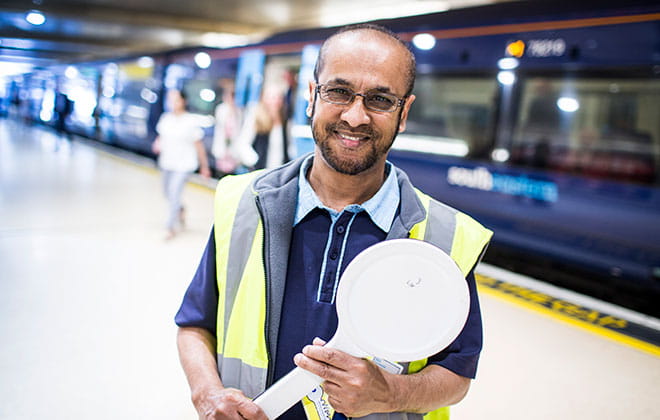 The Ideal Candidate
You must be able to demonstrate the following in your application:
Excellent Customer Service skills/experience
The ability to communicate effectively at all levels
The ability to react quickly and calmly in emergency situations
The ability to work on own initiative
The ability to deal with difficult passengers
Knowledge of Southeastern and our values
Team working skills
Package Description
Southeastern recognises the value of every individual employee and offers benefits that reflect this.
As well as a generous salary, we offer an comprehensive benefits package which includes;
A Contributory Final Salary Pension Scheme
Free rail travel on Southeastern and GTR rail services (extends to family members for leisure/educational travel)
After a qualifying period, reduced rate travel on other train operators, including European services
Up to 32 days annual leave entitlement (which includes bank holidays)
Access to an array of discounts for retail and leisure products through our benefits scheme.
Family friendly benefits including enhanced maternity/paternity leave, parental leave and carers leave.
Full training and free uniform
About the Company
About Southeastern
Southeastern runs train services into London from Kent and East Sussex, operating almost 1,700 trains a day, carrying more than 400,000 passengers, serving 176 stations and covering 540 miles of track.
Just over 4,600 employees - mostly from the communities that we serve - work together to provide this vital service and we are looking to expand our successful team. We have a strong set of values that shape the way we run our business and guide our staff in delivering what our customers need. These are:
We aim to be the best
We make the difference together
We care passionately about our people and our passengers
We are committed to being an inclusive employer, creating a workplace where everyone can come to work, feel safe and comfortable and able to do everything to the best of their ability. Read about some of the great Diversity and Inclusion initiatives our Head of Colleague Experience has been leading on here.
We recognise the positive value of diversity and it matters to us that our teams reflect the communities we serve. We welcome and encourage applications from people of all backgrounds.
We proud to be a WORK180 Endorsed Employer for Women. If you would like to know more information about how we are supporting our employees, you can view our policies and initiatives here.
We have also won the Top Employer award at the Women in Rail Awards 2022!
If you have been unsuccessful in the recruitment process for the same/similar position you will not be eligible to apply for a period of 6 months from that date.
All offers of employment are subject to us obtaining satisfactory references (covering all education, training, employment and unemployment in the preceding 5 years and any previous railway employment). We will also complete right to work in the UK and criminal record checks. This is to ensure we are employing the best person for the role and to protect our customers, colleagues and our reputation. We are unable to offer sponsorship to work in the UK.
This post will close before the intended closing date should sufficient number of suitable applications be received. Therefore, if you are interested in applying for this role, we suggest that you do so at the earliest opportunity to avoid disappointment.
SOUTHEASTERN is owned by SE Trains Ltd, a subsidiary of the Department for Transport's public sector owning group, 'DOHL.' DOHL has responsibility for three rail companies, LNER, Northern Trains Limited and SE Trains.