The difference between a good Indian dish and a perfect Indian dish is the balance of ingredients, taking into consideration their flavor, color, and texture. Jesline Justine loves cooking Indian food and understands the effort it takes to find this balance. Finding the perfect workplace environment also requires a perfect balance, but the ingredients here are a little different.
When Jesline first moved from India to Australia with her husband four years ago, she got a job at an organization as a Graduate Developer. Her experience there… well in cooking terms you could say it was inedible.
She left after only six months.
She's now been working for CGI for almost three years, and it's here she's found the recipe for a perfect workplace environment. What does it take to make a perfect workplace? Jesline shares with us her four key ingredients.
#1 A welcoming onboarding experience
Jesline excelled as she studied her Computer Sciences and Engineering degree in India. She excelled at a National-level coding competition that helped her secure her first job as an Assistant System Engineer after she graduated. And she excelled in that role too. But when she came to Australia and found herself in a workplace environment where she could no longer excel, it was quite devastating for her. She quit the role and began to question herself and her skills. She looks back now and shakes her head at how quickly she jumped to doubt all she had achieved, but at the time she says she was quite depressed about the situation.
After some time, and fantastic support from her husband, she tried again. This time applying for a Graduate Developer role with CGI.
"I had an amazing interview call, and within a month I got the news I was successful. Everyone was so nice, so friendly. It was a really positive experience and made me feel very comfortable."
#2 Clear career progression pathways
Jesline may have started at CGI in a graduate role, but since she already had a year and a half career experience between her roles in India and Australia, CGI were very supportive when she brought up the possibility of a promotion.
She began the conversation by asking for an organisational chart to see how her career might progress with CGI. Then taking into consideration the fulfilment she'd found within the SCADA team, she and her manager worked together to map a pathway forward.
"I never felt I had to do it all by myself. I was given tips on how to progress, and how to pitch myself. I was a little hesitant to ask for a promotion in the first year. But everyone made me feel like this was the right thing to do. Nobody made me feel like I was being too cocky."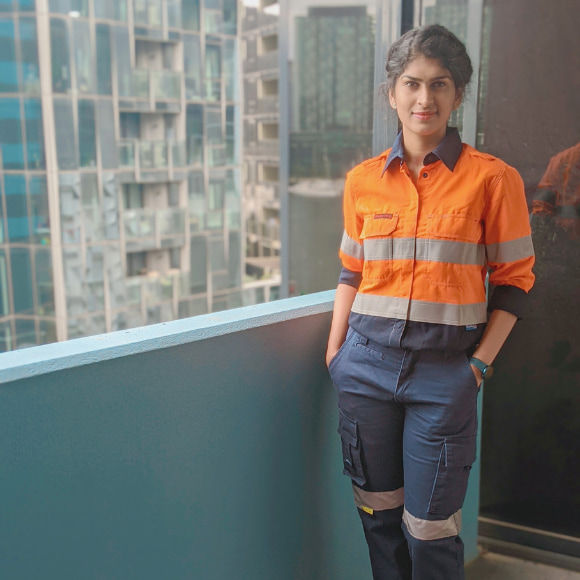 #3 A rewarding culture
Jesline is consistently awed by the way CGI ensures the voices of their employees are heard, no matter a person's role or title. Their APPLAUD internal reward and recognition scheme is just one of the ways their voices are valued. The system allows employees to give awards to anyone in the company at any time.
Each of the APPLAUD's are linked to one of the six core values of the CGI that guide their daily decisions, interactions and define their business philosophy and principles:
Partnership and quality
Objectivity and integrity
Intrapreneurship and sharing
Respect
Financial strength
Corporate social responsibility
"You can be 'applauded' for something as simple as staying back to get a job done. It might not sound that special, but that little APPLAUD really motivates you. It makes you feel like you're doing something to make a difference."
Jesline shares how her most recent APPLAUD earned her one of CGI's additional monthly awards. It was shared within the company email across both the Australian and UK branches of the company.
"It was so great and really motivating to be recognized."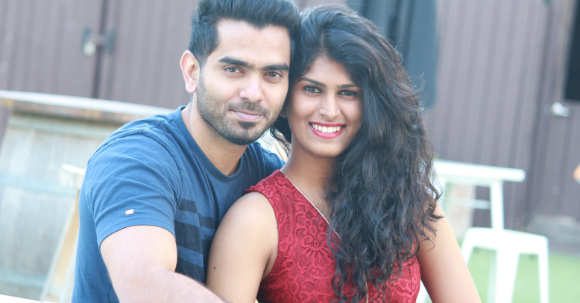 #4 Flexible work arrangements
Jesline is a full-time Associate SCADA Engineer, and this role involves supporting software that collects massive amounts of real-time data every second of every day. The clients she helps can't afford for these systems to go down even for a minute. By this nature, Jesline's job can involve a lot of pressure and quick thinking. This is why work-life balance is the last, but certainly not least important ingredient to her perfect workplace environment.
"That they try their best to accommodate each and every one to achieve their work-life balance is one of the best parts of the culture at CGI."
Jesline shares that she isn't much for early starts, but she is free to start later in the day and finish later. There's no micromanagement or third degree about the hours she clocks on.
"As long as the work is getting done and everything is running smoothly, CGI supports you, nobody is looking over your shoulder. That gives me a sense of ownership in the company. There are days I've stayed until 11pm, not due to pressure to stay or because I'm overworked. I stayed just out of a sense of genuine commitment and responsibility for what I do."
Any organization may have these same ingredients at their disposal. But as Jesline, and any other great chef knows, it's the balance and measure of these ingredients that leads to the most delicious outcomes. After getting a taste of what happens when the recipe goes wrong, Jesline's thrilled to have found the right recipe with CGI.
"CGI has created a perfect environment for me to work happily and it is one among the few multi-national organizations where you can find the best work-life balance for employees. I have a wonderful team that supports me, and it always feels like home whenever I am at work."