About us
Northern Trust's international business has grown dramatically over the last decade. Some of our largest clients are located in Asia and Australia, a rapidly growing client base for the company. Since 1986, we have been serving clients including corporate pension funds, investment managers, insurance companies, government agencies, family offices and corporations. Currently, in addition to our numerous global offices in North America and EMEA, we have offices in Beijing, Hong Kong, Sydney, Melbourne, Singapore, Seoul, Tokyo and Kuala Lumpur.
At Northern Trust, we guide the world's most successful individuals, families, and institutions by remaining true to our enduring principles of service, expertise and integrity. We make the same commitment to our employees, all 22,000 of them. Whether this is a first step or a bold new leap in your career, we're here to help you move forward.
Our Culture and People
Go further in a community that cares.
Gain access to industry experts, global perspectives, leading technology and dedicated support from your colleagues – all without sacrificing the richness of your life outside of work.
When you work at Northern Trust, you know your colleagues are among the best in their fields. They come from diverse backgrounds, but they're united in their collective drive to serve clients and innovate for the future.
Diversity, Equity and Inclusion
Greater is…fitting in because of your differences.
What differentiates us is the unwavering belief that diversity, equity and inclusion are inextricably linked: true diversity can exist only in an inclusive work environment where any individual or group feels welcomed, respected, supported, and valued to fully participate and contribute to our shared success.
Learn all about our Culture and People here
We ensure our policies guide our behaviors to create and maintain a discrimination-free workplace because we know that each partner comes with unique skills, perspectives and goals. 
Northern Trust is proud to support total diversity: gender, age, race, religion, sexual orientation, gender identity, ethnicity, physical disabilities, and marital/family status, among others. 
You don't just accept a position here – you embark on a career.
Learn more about our awards and business resource councils.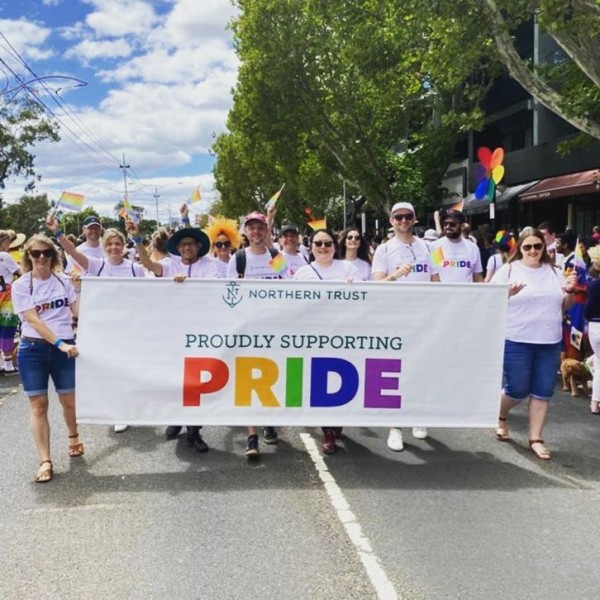 Making an impact on your communities
Make your mark – at work and in the community.
Around the world, Northern Trust partners give freely of their time and talent to work for the greater good of their communities. To empower these efforts, Northern Trust offers two paid days off to volunteer for charities of their choice, in addition to connecting employees with not-for-profit organizations that can benefit from their unique talent. The result is more than 1 million volunteer hours in the last decade – and countless communities made stronger. 
Global Giving
In 2021, Northern Trust made charitable contributions of $18 million globally. Our volunteer efforts and contributions are focused on four key areas proven to advance financial success for those who too often face unfair hurdles: educational excellence, food security, accessible healthcare, and affordable housing. 
Why work with us
Dynamic careers. Brighter futures. Greater possibilities.
"Partner" is more than a title. It's a promise! At Northern Trust, we refer to our employees as partners for a reason—because we understand that relationships are the key to our success. 
Stronger partnerships don't just feel better, they work better. They lead to more innovative ideas and better business outcomes. They foster collaboration, inclusion, and result in growth that serves everyone. We won't ask you to pick between a dynamic career or work-life balance. Instead, we'll work closely together to ensure you can achieve everything you want, without sacrificing the things that matter.
There is a place for everyone here. Fitting in because of your differences is just one of the benefits of a Northern Trust career. 
Join our diverse team of global innovators who work together to guide the world's most successful individuals, families and institutions through exceptional service, collective expertise and uncompromising values. 
Join a Team that's Made for Greater.
Pursue your greatest ambitions 
From continuous learning opportunities to a variety of mentorship programs, we're helping our partners identify—and pursue—their most ambitious career goals.
Northern Trust University
Northern Trust University (NTU) is our virtual platform for your learning and development needs. NTU has a robust library of offerings to help you develop professional, management, leadership, technology, and job-specific skills and knowledge.
Business Resource Councils
The business resource councils are employee-led resource groups that provide tools and resources to support the development of an inclusive culture that values and leverages diversity, equity and inclusion to achieve and sustain superior business results.
We encourage partners to build their network and identify potential mentors, as well as to take advantage of the formal local mentoring programs available in a number of our offices.
Grow your career in a culture of care
Taking care of yourself is important to you—it is to us, too. We encourage partners to take advantage of the wide variety of well-being programs we offer to help maintain their mental, physical, and emotional health. We provide activities, tools, and resources to help you stay engaged at work and at home, along with other extras designed to help you feel your best.